Clean Water Action 2021 Endorsements in Pennsylvania
Get out and vote on Tuesday, November 2nd for the environment by supporting our slate of endorsed candidates!
Polls are open from 7am-8pm. Find your polling location here.
If you're voting by mail, make sure you get your ballot it into USPS mailbox or take it directly to the Allegheny County Election Office as soon as possible but by no later than Election Day. As a reminder, the time extensions given last year are NOT in place for this cycle.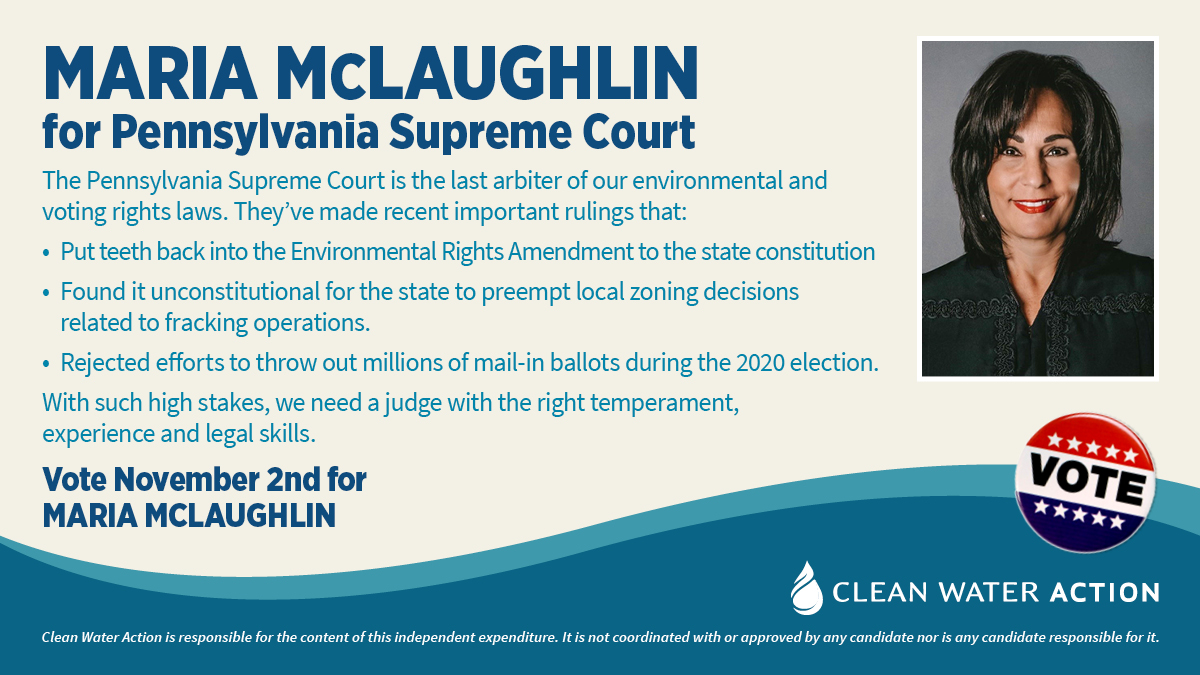 Maria McLaughlin for Pennsylvania Supreme Court
The Pennsylvania Supreme Court is the last arbiter of our environmental and voting rights laws. They've  made recent important rulings that:
Put teeth back into the Environmental Rights Amendment to the state constitution
Found it unconstitutional for the state to preempt local zoning decisions related to fracking operations.
Rejected efforts to throw out millions of mail in ballots during the 2020 election.
With such high stakes, we need a judge with the right temperament, experience and legal skills. Vote Nov 2nd for Maria McLaughlin.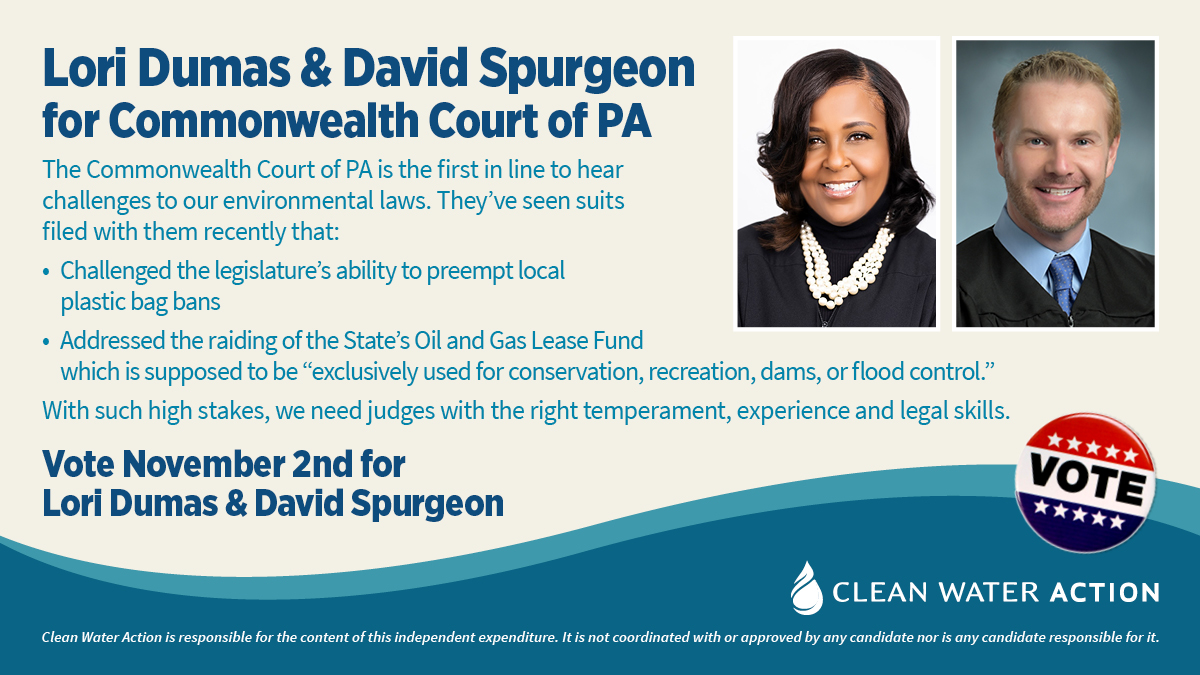 Lori Dumas & David Spurgeon for Commonwealth Court of PA
The Commonwealth Court of PA is the first in line to hear challenges to our environmental laws. They've seen suits filed with them recently that:
Challenged the legislature's ability to preempt local plastic bag bans.
Addressed the raiding of the State's Oil and Gas Lease Fund which is supposed to be "exclusively used for conservation, recreation, dams, or flood control."
With such high stakes, we need judges with the right temperament, experience and legal skills. Vote Nov 2nd for David Spurgeon & Lori Dumas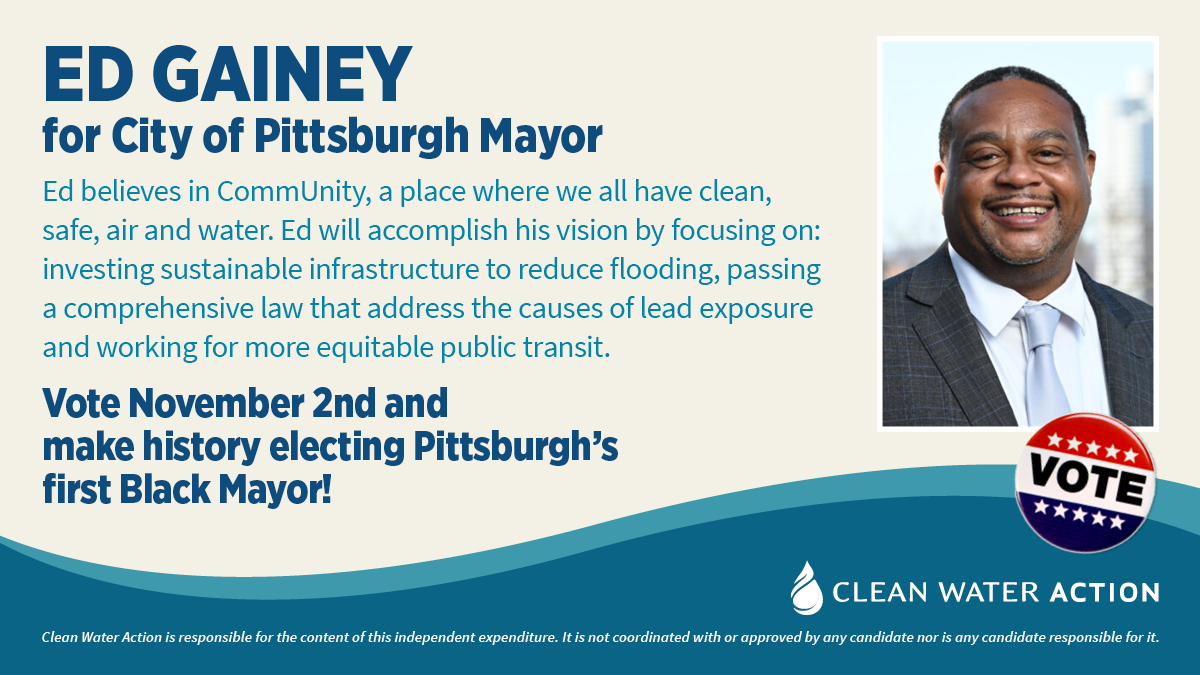 Ed Gainey for City of Pittsburgh Mayor
Ed believes in CommUnity, a place where we all have clean, safe, air and water. Ed will accomplish his vision by focusing on:
Investing sustainable infrastructure to reduce flooding.
Passing a comprehensive law that address the causes of lead exposure.
Working for more equitable public transit.
Vote November 2nd and make history electing Pittsburgh's first Black Mayor!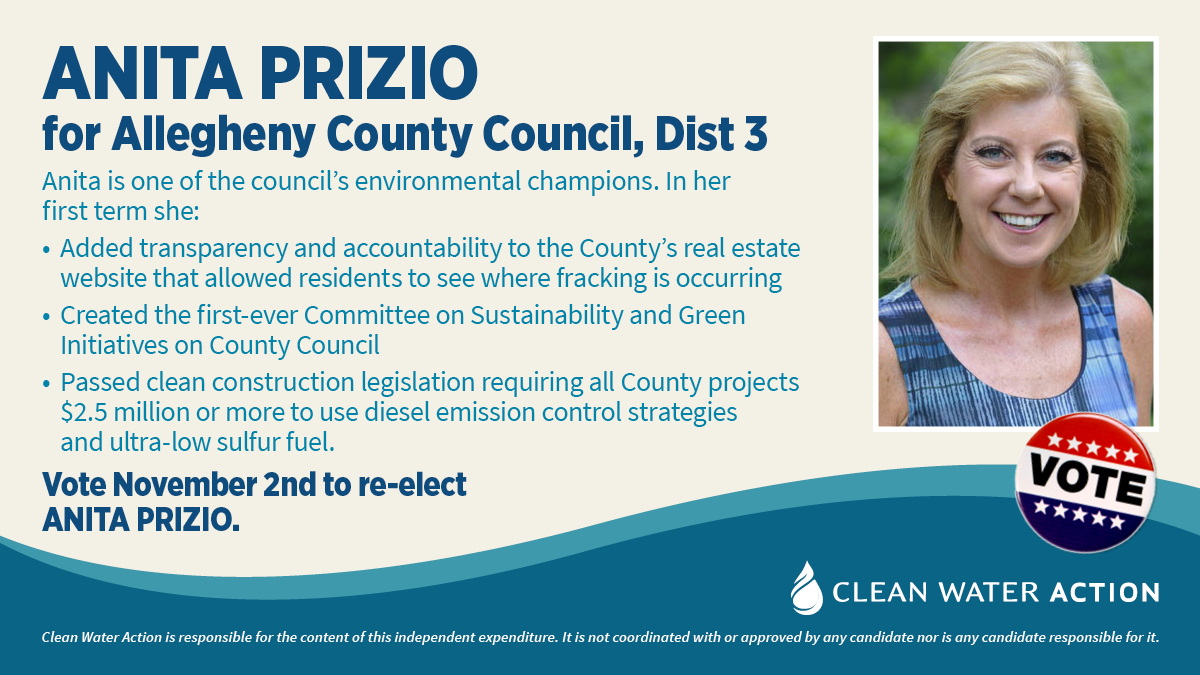 Anita Prizio for Allegheny County Council, Dist 3
Anita is one of council's environmental champions. In her first term she:
Added transparency and accountability to the County's real estate website that allowed residents to see where fracking is occurring.
Created the first-ever Committee on Sustainability and Green Initiatives on County Council.
Passed clean construction legislation requiring all County projects $2.5 million or more to use diesel emission control strategies & ultra-low sulfur fuel.
Vote November 2nd to re-electing Anita Prizio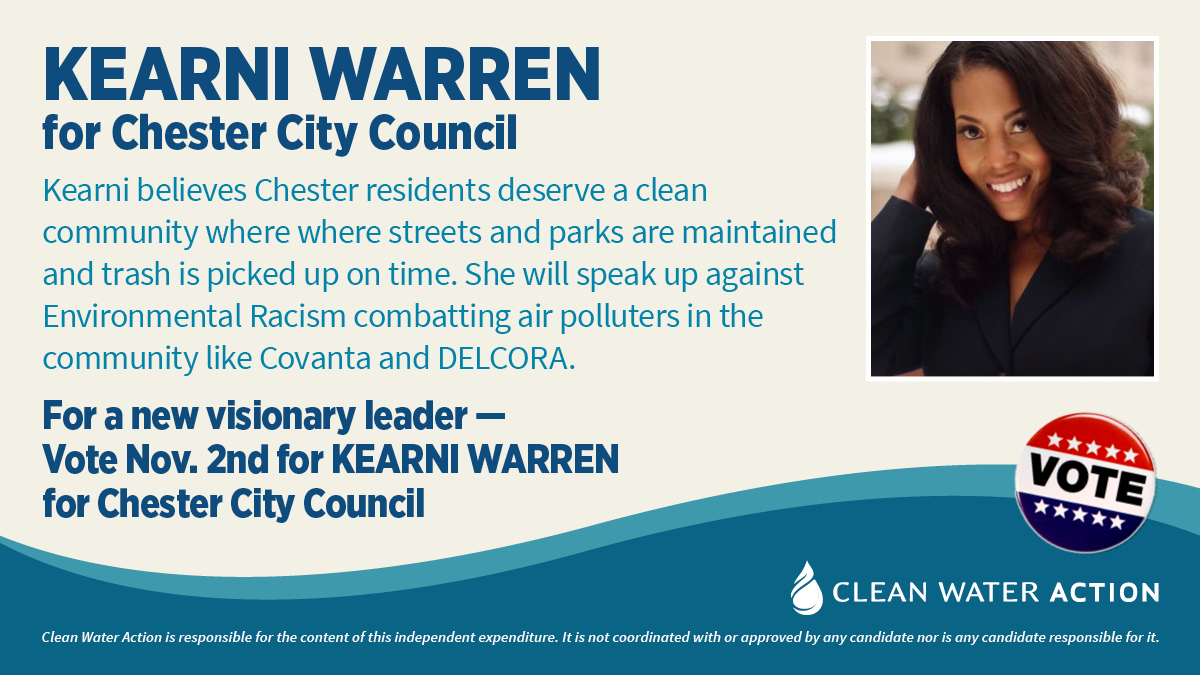 Kearni Warren for Chester City Council
Kearni believes Chester residents deserve a clean community where streets and parks are maintained and trash is picked up on time. She will speak up against Environmental Racism combatting air polluters in the community like Covanta and DELCORA.
For a new visionary leader, vote Nov. 2nd for Kearni Warren for Chester City Council
Paid for and authorized by Clean Water Action for distribution to our members. Contact us at www.cleanwateraction.org or 412.765.30531