Your Vote, Your Voice -- State Legislative Endorsements in Texas
This year's elections are the most critical in recent history. Voters will have the opportunity to elect environmental champions from the White House to the courthouse. Clean Water Action will endorse candidates at every level who will join us in our campaigns to protect clean water and act on the climate crisis. The past few years have shown us the importance of electing candidates who listen to the science and let it guide commonsense policies. It is equally vital that we choose candidates who are committed to fulfilling the promise of American democracy by acknowledging the reality of systemic racism and acting to dismantle it. And it is vital that we support candidates who understand that fair and open elections are essential to our democracy and who work to guarantee equal and unfettered access to the polls for all.
Clean Water Action carefully studies candidates before making endorsements, learning as much as we can through a detailed questionnaire. Our Texas Vote Environment committee scrutinizes questionnaire responses and evaluates the track records and leadership abilities of candidates before reaching a decision. All recommendations must then be approved by our national office.
Clean Water Action is pleased to announce these endorsements for the November 2020 general election. Please visit this page frequently before the election, as we expect to make additional endorsements before the election. 
Find Congressional endorsements here.
Learn more about voting in Texas here.
Endorsements for the Texas Legislature: House Races
L. Sarah DeMerchant, District 26: DeMerchant grew up in Ft Bend County and is an IT executive by profession with an MBA from the University of Houston-Victoria. She is calling holding industrial facilities accountable for air pollution, addressing climate change and promoting renewable energy.  This is an open seat in increasingly diverse Ft. Bend County which DeMerchant narrowly missed winning in 2018.
Eliz Markowitz, District 28: Eliz Markowitz is a native Texan who grew up in Sugar Land and holds a PhD. in Curriculum and Instruction from the University of Houston. She currently works as an instructor, corporate trainer, and author with the Princeton Review, training other teachers across the nation. Markowitz champions immigrant rights, voting rights, protecting and expanding Obamacare, reducing fossil fuel emissions, and protecting water from fossil fuel extraction. This is a rapidly growing, diverse suburban district in Ft Bend County.
Travis Boldt, District HD 29: Boldt is a Texas native with a law degree from Trinity University who operates a Senior Care agency. He puts the threat of climate change front and center and favors market-based solutions to address it, such as partnering with farmers and ranchers to erect solar panels and wind turbines on their land. He also supports coastal protection projects and rigid enforcement of existing health-based standards to hold polluters accountable for permit violations. This is an increasingly diverse suburban district in Brazoria County, now represented by an incumbent with a dismal 23% score on his environmental votes.
Erin Zwiener, District 45: Zwiener is a fifth generation Texan won this seat in a close race in 2018 and had an outstanding first legislative session. She is committed to removing barriers to 'purple pipe' use by sewage treatment plants to stretch scarce supplies and provide a safe, cost-effective alternative to direct discharge into sensitive waterways, and to settin ambitious goals for renewable energy to fight climate change and create jobs. The district includes all of Hays and Blanco counties.
Vikki Goodwin, District 47: Goodwin is an Illinois native with and MA from UT's LBJ School of Public Affairs. She won this seat in 2018 and earned an A+ for her environmental votes at the legislature, where she filed a bill that helped create a groundwater conservation district for SW Travis County. She supports for incentives for renewable energy and electric vehicles, a reduction of flaring through stronger penalties for polluters, and improved safety measures for above-ground petroleum and chemical storage tanks. The District cover most of western and southwestern Travis County.
James Talarico District 52: Talarico won this seat by a close margin in 2018 and was a solid pro-environment vote during the 2019 legislative session. His priorities include promoting water conservation, protecting groundwater, assuring lead-free drinking water in schools, and making sure that cities can enact ordinance to protect trees and control plastic bag pollution. The district includes parts of Round Rock, Taylor and Georgetown in rapidly growing Williamson County.
Michelle Beckley, District 65: Beckley won an upset victory in 2018 in this southeastern Denton county district and was a solid-pro-environment vote during the 2019 session. Her priorities include expanding renewable energy to fight climate change and create jobs, promoting the use of pollinator-friendly native landscapes in public rights-of-way, and banning fracking near drinking water reservoirs like Lewisville Lake.
Sharon Hirsch, District 66: Hirsch is an environmental champion challenging a far-right incumbent. Her campaign highlights the imperative need to ramp up water conservation initiatives to forestall water shortages as population grows and the climate warms, expanding renewable energy programs at the state and local levels, and increasing fines for polluters who violate their permits. This is an increasing diverse district in southwestern Colin County that includes just under half of the city of Plano as well as parts of Dallas.
Jeff Whitfield, District 92: Whitfield is an Air Force veteran and lawyer whose far-right opponent has substantial financial backing from Big Oil. Whitfield prioritizes promotion of renewable energy, water conservation and the preservation of natural areas. The district composed primarily of (and includes all of) the three Tarrant County 'mid cities' of Hurst, Euless and Bedford.
Lydia Bean, District 93: Bean is a trained sociologist, author and educator who comes from a family of preachers and teachers. Her environmental priorities include stronger protections of groundwater from oil and gas activities, better regulations of methane emissions in the oil field, and restoring the ability of local governments to challenge power plant permits and regulate plastics bags. This district includes pieces of Arlington, Ft Worth, and northern Tarrant County.
Alisa Simmons, District 94: Alisa Simmons is a 6th-generation Texan and Arlington resident  with a BA in journalism from Texas Women's University. She has served on the City of Arlington Comprehensive Plan Advisory Committee and as President of the Arlington NAACP and Second Vice President of Texas NAACP. She names an expansion of renewable energy, stronger controls on carbon emissions, and cleaner air as top priorities.
Joe Drago, District 96: Drago is a Ft Worth native and first-time candidate with a law degree from Baylor University. His environmental priorities include reduced dependence on fossil fuels through innovate technology and wind and solar, reducing carbon emissions to ensure climate stability for future generations, and reducing air pollution. This is an open seat in an increasingly diverse district that comprises most of Southern Tarrant County and includes portions of Arlington and Ft Worth and most of Mansfield.
Elizabeth Beck, District 97: Beck is a seventh-generation Texan and a US Army veteran with a law degree from Texas A&M. She supports stronger water conservation initiatives, expanded oversight of oil and gas operations, an expansion of renewable energy, and increased funding for air pollution abatement programs and parkland maintenance. This district cover much of southwest Tarrant County.
Debra Edmondson, District 98: Edmonson is an Ohio native and Southlake resident with a law degree from Southern Methodist University. She served on Southlake's Planning and Zoning Commission before being elected to its City Council. Edmondson is a self-described 'tree hugger' whose campaign highlights increased funding for state parks, opposition to discharge of oil and gas wastewater into surface water, as well as programs to advance water conservation, energy efficiency, and clean energy. This is a north Tarrant County district now represented by an incumbent with a weak 26% score on his environmental votes.
Ana-Maria Ramos District 102: This year's race is a re-match 2018, when Ramos unseated a powerful incumbent. Ramos is a Dallas native who grew up in a low-income household. She attended Women's University in Denton and earned a law degree from Southern Methodist University. She proved to be a strong and consistent pro-environment vote during the 2019 session, and is committed to promoting water conservation, protecting groundwater supplies, and defending citizens' rights to contest permits for polluting facilities that threaten their health and quality of life. The district encompasses parts of northern Dallas County, including most of the cities of Richardson and Addison.
Ann Johnson, District 104: This is a rematch of the 2018 contest, which Johnson lost to incumbent Sarah Davis by a close margin. Johnson is a Houston native who has earned national renown as an expert on and prosecutor of human trafficking. Her priorities include robust support of renewable energy to fight climate change, improving safety and anti-pollution at industrial facilities, and mitigating flooding. The district consists of much of west Houston and the cities of West University Place, Bellaire and Southside Place.
Terry Meza, District 105: Meza is a fourth-generation Texan who unseated an anti-environmental incumbent in 2018. She consistently voted pro-environment during the 2019 session and is committed to working closely with environmental advocates and her constituents to develop and support legislation for clean water, clean air, and local control. The district comprises much of eastern Dallas County and includes most of Irving and more than a quarter of Arlington.
Victoria Neave, District 107: Victoria Neave was born in Dallas of immigrant parents and raised in Dallas' Pleasant Grove neighborhood. She became the first in her family to receive a college degree and then earned a law degree from Texas Southern University. She unseated an entrenched incumbent in 2016 by a tight margin before winning re-election in 2018. She has proven to be a solid pro-environment vote and is committed to fighting for safe drinking water for all, preserving green and open spaces, and reducing exposure to toxic chemicals. The district contains much of eastern Dallas County, including parts of Mesquite and Garland.
Joanna Cattanach, District 108: Cattanach is a native Texan with an MA in International Journalism from Baylor University. She supports empowering state regulators to hold businesses and corporations accountable for contaminating our land, air, and water, and restoring the ability of local government to regulate polluting industries Cattanach lost a close race for this North Central Dallas district in 2018 against an incumbent with an abysmal F- score on his environmental votes.
Brandy Chambers, District 112: This race is a rematch of 2018, which Chambers lost by a single percentage. Chambers is an environmental and progressive champion committed to fighting climate change, improving regulation of oil and gas activities, and expanding renewable energy, The district lies in northeastern Dallas County and includes parts of Garland, Richardson, Rowlett, and Sachse.
John Turner, District 114: Turner is a fourth-generation Texan who unseated an incumbent in this north-central Dallas district in 2018 and who consistently supported pro-environment initiatives in the legislature during the 2019 session. His priorities for the next session include restoring funding for programs that help cities like Dallas reduce air pollution, reducing exposure to lead in drinking water in public schools, and improving protections for environmental flows in rivers that serve the recreational and drinking water needs of millions of Texans.
John Bucy III, District 136: Bucy won this seat in a tight race in 2018 and is a strong supporter of water and energy conservation, expanding renewable energy programs like wind and solar, and reducing the proliferation of plastic pollution while promoting recycling and composting. The district encompasses most of the cities of Cedar Park and Leander and part of Austin in rapidly growing Williamson county.
Endorsement for the Texas Legislature: State Senate
Rolando Gutierrez, Senate District 19: Roland Gutierrez is a San Antonio native, a former San Antonio city council member and a five-term veteran of the Texas House, where he earned solid marks for his environmental votes. Gutierrez is a strong supporter of hybrid vehicles and increased funding for parks and natural areas. District 19 is the largest Senate district in state, and includes much of eastern and southern Bexar County and some or all of 16 other counties near the Texas–Mexico border.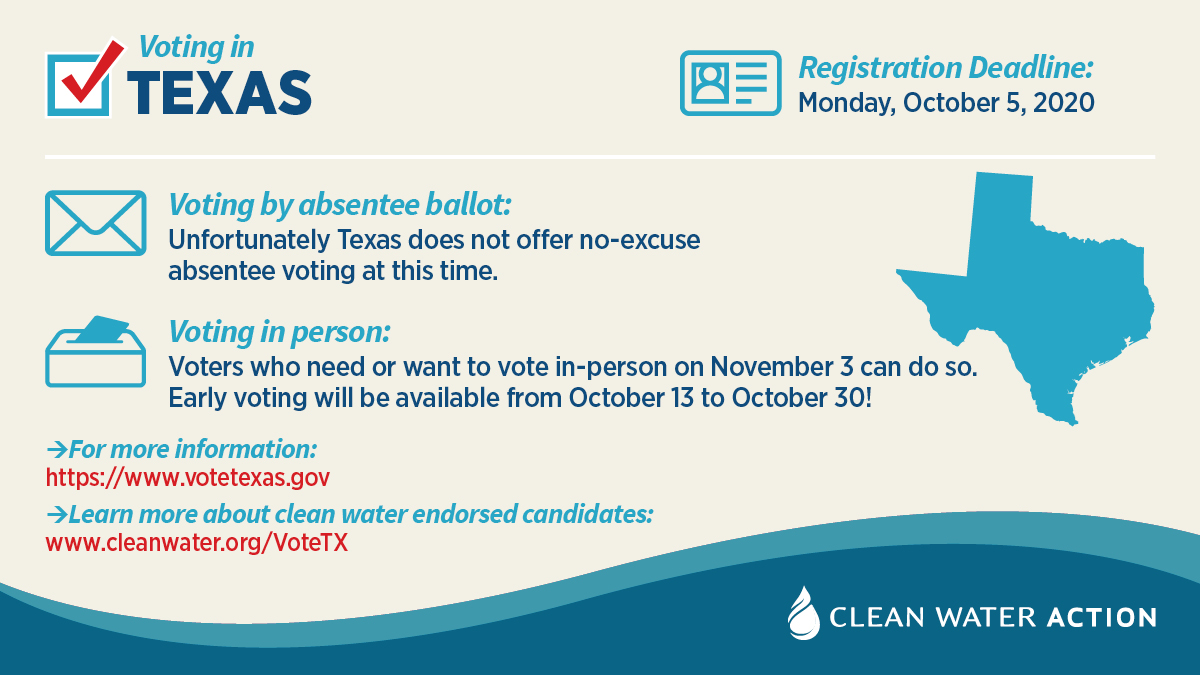 Pol. ad. paid for by Texas Vote Environment PAC. Contact us at 512-474-2046 or www.cleanwateraction.org