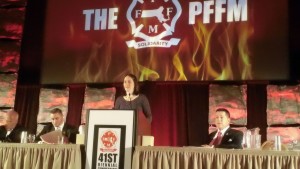 Fighting Cancer with Fire Fighters
June 12, 2015
By Elizabeth Saunders, Massachusetts State Director – Follow Our MA Team on Twitter (@CleanH2OMA)
I have a vivid memory of being on a long bus-ride during an 8th grade school trip and talking with 3 of my friends about what we were going to do when we grew up. I told them I was going to be an environmentalist. I already knew where my passion lay.
Not that I knew what that would look like. If you'd told me that I'd be researching water quality or endangered species, leading nature walks, using a law degree to sue polluting companies, or working to pass new laws (as I do now), all that probably would have sounded plausible to me. If you told me that my career in environmental protection was going to find me speaking to a room of about 500 fire fighters, I'm not sure I'd have believed you.
But that's where my path led me week: to the 41st Biennial Convention of the Professional Fire Fighters of Massachusetts. What my 8th grade self didn't yet know that my 14 years at Clean Water Action have taught me, is that the work of protecting the environment is truly the work of protecting public health, the work of protecting public health impacts everybody, and truly effective environmental and public health advocacy requires partnership with many people who would not necessarily call themselves environmentalists.
This week, the fire fighters and I were talking about cancer. The Boston Fire Department has created a powerful video about the toll that toxic chemical exposure takes on fire fighters. In Boston, so many fire fighters have died "with their boots off" that their "brothers and sisters" and families have created a memorial of black and white photos in a larger wall of photos of firefighters who have lost their lives in fires.
The chemicals in the consumer products and building materials that we are exposed to every day become noxious fumes in fires and fire fighters' exposure is much more intense than yours or mine. Notably, the flame retardants in our furniture, electronics, nursing pillows, car seats, carpet padding, and other products cause cancer, as well as many other health problems, and the way they are often used, they are ineffective at stopping fires. Clean Water Action, working with the Alliance for a Healthy Tomorrow coalition, is partnering with the Professional Fire Fighters of Massachusetts to support legislation that will phase out toxic flame retardants from children's products and household furniture in Massachusetts.
I couldn't be more proud of this collaboration. As I told the 500 assembled fire fighters on Wednesday,
"We are committed to passing this legislation so that our children, nieces and nephews can have healthier lives than we have today. We are committed to passing this legislation so that no worker has to come home from the job more likely to get cancer than when they left in the morning. We are committed to passing this legislation so that the black and white section of the wall of photos in the Boston Fire Department stops growing. I am in awe and deep gratitude for the risks that you take every day that put your lives on the line on behalf of others. We owe it to you to phase out these toxic chemicals, so that when you come home safe from a fire, you actually come home safe from a fire."
And that is what this work is about.